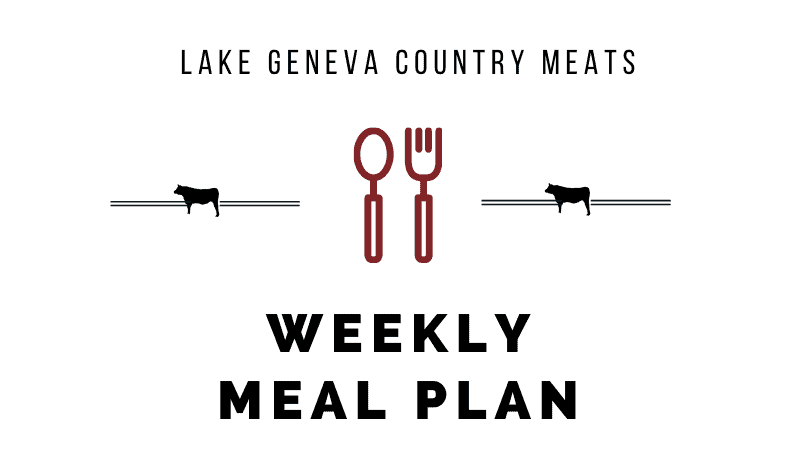 It's time for your weekly LGCM meal plan!  And this week, we want to make sure you have a delicious meal for a Valentine's night in with your loved ones.  Sure, going out is nice and all, buuuutt we much prefer a night in where you can guarantee a delicious meal at a fraction of the cost!
For the rest of the week, we're still sharing our favorites – tacos on Tuesday, one pan meals and, of course, grillable meats!
MONDAY
It's the start of the week, so I'm diving right in with a delicious burger recipe.  This gourmet burger is a great on its own, but even better when topped with onions and more mushrooms!
TUESDAY
You know how much we love tacos…and they're even tastier on Tuesdays!  Basically, any meat in a shell of some sort, add tasty toppings and viola…tacos!  This week, we're eating pork – prep it ahead of time in your slow cooker, add toppings and enjoy.
WEDNESDAY
Italian Baked Chicken and Pasta
This pasta is our weekly one pan meal and it's also one that your family will love!  It's full of  traditional Italian flavors that you can't go wrong with.  Add a little extra flavor by using an already-marinated chicken breast, or opt for a plain breast if you'd prefer to season it on your own!
THURSDAY
Before a decadent Valentine's meal, enjoy a simple night of leftovers tonight.
FRIDAY – Happy Valentine's Day!
Impress whoever you're cooking for with seared scallops.  They are so easy and so quick to make!  It sounds like dry-packed scallops are the way to go if you want your scallops to be the best they can be – thanks for the great tip Nick!
SATURDAY
An affordable steak that is still full of flavor.  After cooking your heart out last night, today's dinner is a simple one.  The best way to cook this is on the grill and topped with your favorite steak sauce.
SUNDAY
With a recipe title like this, what better recipe could we choose for today?  I know you loved our slow cooker pot roast from a few weeks ago, so take a little more time this week to try pot roast in a Dutch oven and see what you think.  I bet you'll love it!
Happy Dining!
-Bridget