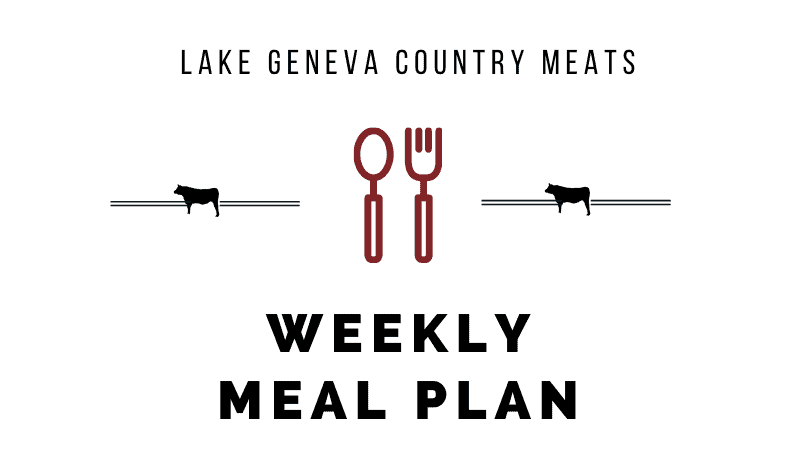 This weeks' menu is diverse, packed with flavor and will yield plenty of leftovers throughout the week.  I'm excited to get cooking and even more excited to be able to celebrate 4th of July on a Saturday.  Enjoy!
MONDAY
Spinach Stuffed Chicken Breasts
I obviously love this recipe because 1. it's chicken and 2. stuffing spinach inside chicken (even if it's also paired with cream and cheese) makes me feel like I'm getting some daily veggies in.  But, I understand that this one could seem a bit heavy to some people, so Nick shared a great trick with me, so I'm sharing it with all of you!  Follow the recipe, stuff the chicken, but then slice it into slim pieces at the end so it's more like a roulade.  Doing this makes the overall dish seem less heavy and great for a get together.  Pro-tip Nick!
TUESDAY
The quick summary of this recipe is "large sandwich stuffed with meat."  Sounds pretty good right?  Read the recipe to find out how to make this delicious sandwich.
WEDNESDAY
My kids love pork, so this was a fun one to try!  I'm always worried about serving under-cooked meat, so this method of cooking makes me feel much more confident that I have an even, thorough cook.  Plus, all of the ingredients you need for this recipe are basic pantry staples, so it's perfect for any night of the week.
THURSDAY
Our favorite day for leftovers!
FRIDAY
You can't go wrong with this dish and since teriyaki is a favorite flavor in our house, I'm sharing it again.  A dinner that's healthy and only takes 20 minutes to get on the table is perfect in my book.  Oh, and you only need two ingredients!
SATURDAY
Happy 4th of July!  Celebrating the 4th on a Saturday is a special kind of gift.  It's the perfect day to grill outside and enjoy some quality time with family and friends.  What's a more perfect thing to grill than brats?  So this week, I wanted to share one of our favorite ways to prepare and enjoy brats!
SUNDAY
Strip roast is a great cut of meat for entertaining or if you'd just like to prep enough meat to ensure you have leftovers.  This recipe will show you a straight-forward way to ensure a delicious cut of meat everytime.
I'd love to hear what you're cooking this week, so leave a comment below and let me know!
–Bridget