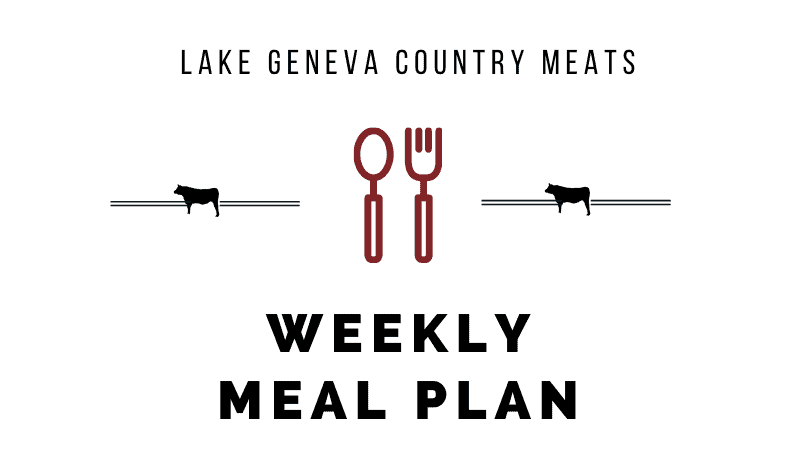 This week's recipes were chosen to celebrate the end of the football season.  Our recipes throughout the weekdays remain the same – some easy dishes, always #tacoTuesday, and hearty meal.  But, when we get to the weekend, our Saturday and Sunday would both be great to eat while watching any and all football.
MONDAY
We chose this recipe for Monday so you could start off the week with flavorful, healthy dish that's easy to put together.  Monday's are tough enough, so your dinner shouldn't have to be.
TUESDAY
Slow Cooker Shredded Chicken Tacos
A classic taco dish to eat this Taco Tuesday.  Making this chicken in a slow cooker makes your Tuesday even easier.  Plus, put in a few extra chicken thighs and have delicious chicken to eat throughout the week for workday lunches.
WEDNESDAY
An Instant Pot is a great way to get a hearty, flavorful dish on the table for a weeknight meal, without spending hours cooking.  If you don't have any pork on hand, feel free to substitute in chicken or beef and it will be just as tasty.
THURSDAY
Leftovers!
We always have a day for leftovers planned because you'll surely have extra food from all of the delicious recipes you've already made this week.
FRIDAY
Honey Apple Maple Glazed Salmon
Starting and ending our week with healthy dishes.  Adding a flavorful glaze to your salmon is a great way to enjoy salmon without getting bored with the same of flavors.  This glaze is a favorite of ours because it only takes a few minutes to make.
SATURDAY
Chicken tenders are a great weekend dish!  They are casual enough to enjoy while watching football on the couch and also make a perfect dish for the kids to enjoy as well! This recipes uses BBQ sauce to season the chicken, then grills the tenders, so they're flavorful AND healthy!
SUNDAY
It's game day!  This recipe will make enough to feed everyone coming over to watch the game and perfect to set out on a table and allow your guests to add their own toppings! Try making a topping bar featuring pickles, fried onions, jalapeño peppers, coleslaw, and shredded cheese. Your guests will love it!