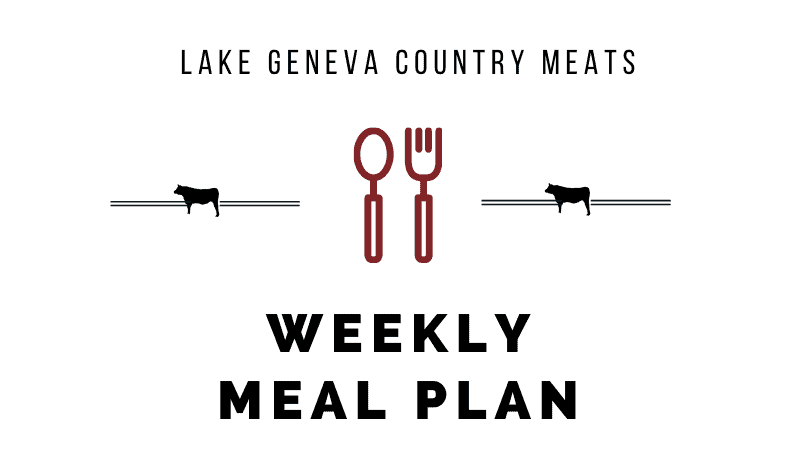 The weeks are droning on and you might be sick of trying to come up with creative meal ideas.  We've been talking to friends and family and we're hearing that everywhere.  Also, what day is it?  Who even knows.  We won't judge you if you make the tortilla pizzas everyday – Lord know we might be!
MONDAY
Sheet Pan Garlic Parmesan Pork Chop Recipe
Sometimes Monday's are hard, so I'm all about a sheet pan recipe to kick off the week.  Pork is affordable and delicious.  Add a little garlic and cheese and you really can't go wrong.
TUESDAY
Instead of traditional tacos, we're taking our favorite Mexican flavors and using them in a beef stew.  Stew meat has been a popular purchase these past few weeks so we thought this recipe would be a nice way to mix things up.
WEDNESDAY
A family favorite!  This one is so fun and flexible.  With kids home more often than normal every day, breaking up the day having them help in the kitchen is great. These pizzas can be used as a great lunch recipe, fun after school snack (whenever school is back in session!) or casual dinner for everyone to enjoy.
THURSDAY
Leftovers!
FRIDAY
Vibrant adobo flavors taste great in this shrimp dish and this is a great fishy Friday option.  Sit back, enjoy and dream of being on a beach somewhere!
SATURDAY
As grilling season is approaching us (or maybe even already here!), a refreshed on how to grill the perfect burger is never a bad idea!  What are your favorite burger toppings?
SUNDAY
Thyme-Rubbed Beef Sirloin Tip Roast with Roasted Onion and Pear Wild Rice
Inspired by Autumn, but delicious year round.  This recipe will make plenty for leftovers so you can enjoy it all week long.  And, the best part is that you can set it in a slow cooker or bake it in the oven.