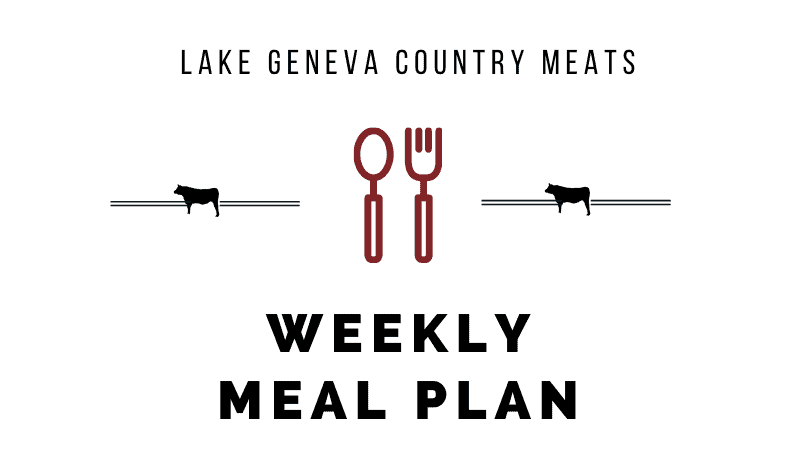 Celebrating some food holidays this week, so there was no room for leftovers!  There are so many reasons to enjoy good food this week, so read on to plan out your week's worth of recipes.
MONDAY
We have pork on our mind after an amazing pork meal at our Gaze & Graze event this past weekend.  Simple Cafe cooked up four courses of amazing pork, so now we're going to give it a try with this recipe!
TUESDAY
Grilled Leg of Lamb Gyro Sandwiches
I mean, this is basically a Greek taco, so we decided that we'll allow it….even on a Tuesday!  Ok, but really, we're celebrating gyro day by debuting this brand new gyro recipe on the website.
WEDNESDAY
Bacon Wrapped Sriracha BBQ Chicken Thighs
Another celebration of bacon, with International Bacon Day!  We all know that adding bacon to anything always ups the ante and makes it that much better.
Since I'm terrible at making decisions, here are two more bacon recipes you might enjoy:
Slow cooker bacon ranch chicken: https://lakegenevacountrymeats.com/recipes/slow-cooker-bacon-ranch-chicken
Bacon wrapped tenderloin filet: https://lakegenevacountrymeats.com/recipes/grilled-bacon-wrapped-tenderloin-filet
THURSDAY
Usually, I leave Thursdays to enjoy leftovers, but not this week because it's National Baby Back Ribs Day.  We have a ton of great rib recipes, but this is a favorite of Nick's and soon to be mine!
FRIDAY
This is a great recipe if you have kids in the house.  These are fun to make and better for you than the ones you can buy frozen from the store.  A perfect dinner for back to school season.
SATURDAY
We heard it's national cheese pizza day, but psshhht, who eats only cheese on their pizza!?  We put steak on our pizza.  Give this recipe a try.  Or just let us know all of the meaty goodness that you like on your pizza.
SUNDAY
Ok, this one is Nick's pick and he's very excited!  In preparation for Labor Day, it's time to smoke some meat.  a straightforward recipe with amazing results.
There's a lot of fun packed into this week's meal plan.  As always, let us know what you're making by leaving a comment below!
–Bridget