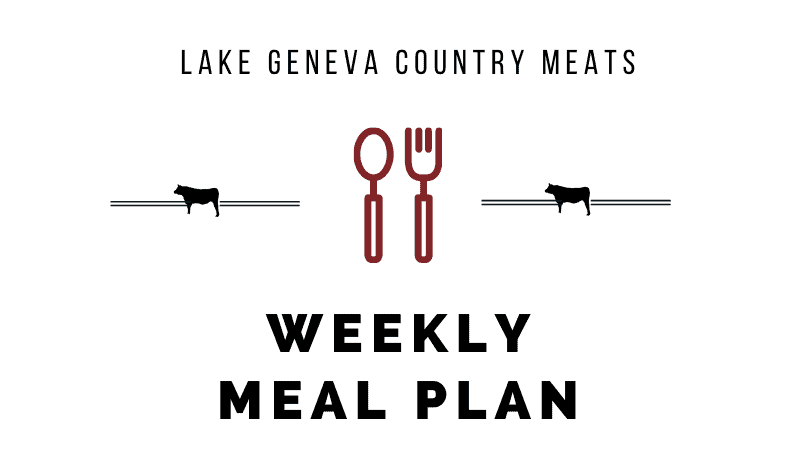 We hope your 4th of July was fantastic, but there is another important holiday this week.  Check out the meal plan below to see what we're eating to celebrate.
MONDAY
Pickle Brined Fried Chicken Sandwich
Kicking off our week with what sounds like a pretty great holiday; it's National Fried Chicken Day.  This is a new recipe that I cannot wait to try!  You can't go wrong with pickles and fried chicken – yum and yum!
TUESDAY
Well, we thought National Fried Chicken Day was today.  It's a good thing we double checked, phew.  We'd hate to celebrate on the wrong day.  So, there was no taco recipe planned for this week, but instead, this super easy pork recipe is a great one for the whole family.  It comes together in a flash and is super versatile, depending on your tastes.
WEDNESDAY
It's been in the 90's for quite a few days and looks like it will be for quite a few more, so turning on the oven doesn't always sound appealing.  So, we're all about the slow cooker for hearty meals.  Plus, set a meal in the slow cooker and you don't have to tend to it – more time to play!
THURSDAY
Enjoy your leftovers today!
FRIDAY
Grilled Mahi Mahi with Mango Salsa
This fish dish is a perfect meal to enjoy out on the patio after grilling it.  The salsa brightens up the dish and might just make you think you're on tropical island, hearing ocean waves in the background.
SATURDAY
You may have heard Nick or I talk about how much we love eating in "bowls" because you can completely customize what you're eating.  For instance, I don't love olives, so I will likely omit them from my bowl.  This dish is also great if you have vegetarians in the group because they can easily enjoy a great meal without having to make something separate.
SUNDAY
Pork Chop and Waffle Sandwiches
Ok, I LOVE chicken and waffles.  Anytime I go to brunch, I can never decide if I want a sweet or savory dish so combining chicken and waffles is delish.  With that being said, have you tried it with pork!?  I can't wait to make this for family brunch.  I imagine the kids will lick up the maple gravy – haha.
What are you cooking this week?
–Bridget