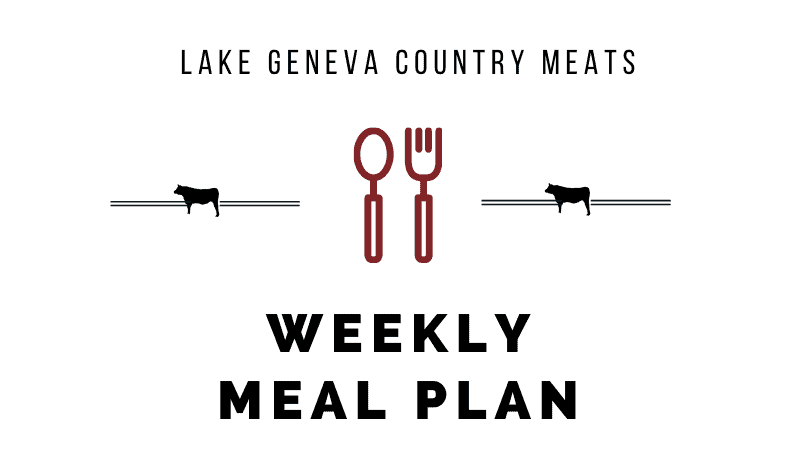 Times are weird right now.  With an information overload either scaring you, frustrating you or just confusing you, I hope this meal plan is a bright spot!  Hey, we all have to continue to eat after all and if we can make that part of your day even a little bit easier, then we're here to help!
MONDAY
Teriyaki Chicken and Broccoli Stir Fry
This is a favorite meal of mine and my husbands.  We've been eating some version of it for as long as I can remember and don't plan on stopping anytime soon!
TUESDAY
What do you do when it's Tuesday and St. Patrick's Day?  Well, you eat corned beef tacos of course!  Maybe you made some corned beef over the weekend and have some left over, well tacos are the perfect recipe to use the leftovers with.
WEDNESDAY
Feels like we all might need a little extra coffee these days, right?!  So, why not put it on your pork!  This lean dinner is great for families and will likely yield leftovers so you can enjoy those the rest of the week.
THURSDAY
Always a good day for leftovers!
FRIDAY
Salmon is a great seafood to enjoy during Lent because you can use so many different sauces and marinades to change it up. This week, I wanted to simply grill a beautiful piece of salmon.  I'll make a few with salt and pepper only and some using this exact recipe.  Salmon makes great lunchtime leftovers for the next few days too!
SATURDAY
Beef Cheeks Braised in Red Wine
Low and slow is the way to go!  I imagine this week will be a crazy one for a lot of people so being able to cook a meal for a few hours and not have to worry about it, sounds pretty nice to me.
SUNDAY
Ending this week (or starting a new one) with a comforting dish.  Like a hug in a pan, this dish is easy to make, easy to clean up and will hopefully be one the whole family enjoys.
Enjoy some tasty meals and stay healthy out there folks!
-Bridget