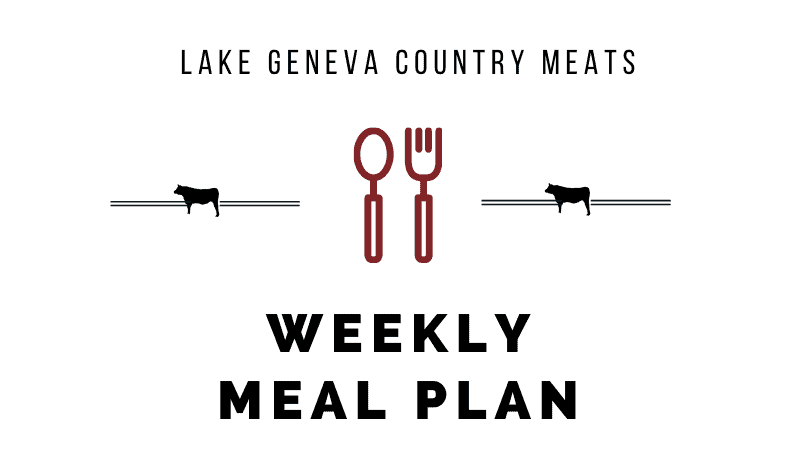 Ya know, as I was reviewing the recipes I chose for this week's meal plan, I realize that there are quite a few fairly simple recipes.  Some weeks, I like to challenge you guys with some more complicated recipes, but what you'll see from this week's plan is that simple recipes taste just as delicious as ones that take hour to cook.  Plus, we can't always be on top of our cooking game, so give yourself a break this week!
MONDAY
If you eat a lot of chicken like I do, this recipe is perfect to spice up your normal routine.  I love eating jerk chicken with simple white rice and plantain chips – it feels like a little taste of the islands brought right onto your dinner plate.  And as usual, I always keep a little extra chicken to throw on salads throughout the week.
TUESDAY
If you love taco dip, then you are going to really love taco brat dip.  It's good to remember that you can always cut away the casing of a brat to create a ground beef like texture.  Same great taste, but without the snap!  That's what we did in this recipe and our taco brats serve as a great alternative to taco meat.
WEDNESDAY
Get over the mid-week hump with an easy recipe that your kids will love.  So, what makes this recipe any different than other sloppy Joe recipes?  Well, we have a sloppy Joe seasoning mix in store to make this recipe even that much easier.  Get dinner on your table in less than 30 minutes!
THURSDAY
Take a recipe or two and make a double batch!  That what you can ensure you'll have plenty for lunch and dinner throughout the week.
FRIDAY
We're all used to using parchment paper in baking (or at least I am) but have you tried using it when baking fish?  This recipe is a great option for Lent and one of my favorites because it takes the guess work out of cooking fish to the proper temperature.
SATURDAY
Greek Grilled Pork Chops with Greek Pasta Salad
On the weekends, we like to get you outside and get grilling (ok, or inside on a grill top if it's freezing out).  This pork chop recipe brings all of the fresh flavors; from the marinade to the pasta salad on the side.
SUNDAY
Some people like to spend all day Sunday cooking and meal prepping.  In our house, Sunday's are always a little crazy.  We're cleaning the house, running errands and just getting ready for the week.  Because of that, I'm keeping this Sunday meal easy, yet still warm, filling and amazing.
What are you cooking this week?  Leave a comment below and let us know!
-Bridget