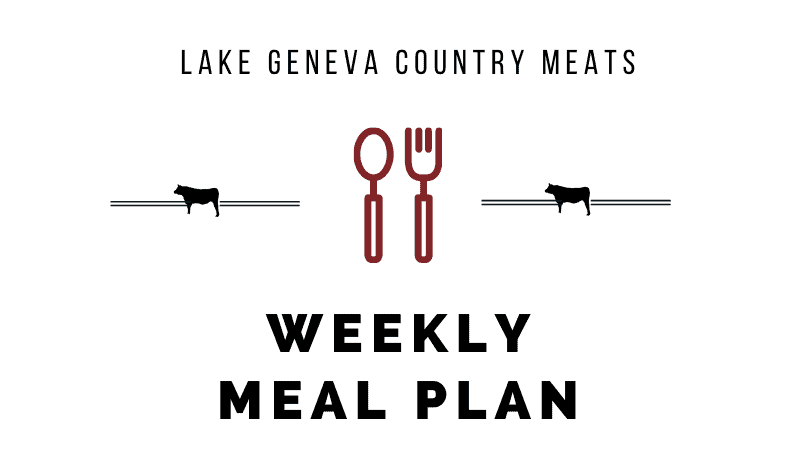 In the thick of the winter, we're always trying to balance hearty meals with healthy ones.  This week's meal plan shares two slow cooker recipes, another hearty stew and two seafood recipes, plus a fresh tasting lean beef recipe to help keep us all a little bit healthier.
MONDAY
Slow Cooker Italian Beef Noodles
Sometimes Monday's are the worst and slow cooker meals are the best!  We love this recipe because it's perfect for the family.  Pro-tip: you can sneak vegetables into this meal and the kids will hardly even know!
TUESDAY
#TacoTuesday is here with some fresh fish tacos.  Mahi-mahi makes a great base and then you can get creative with your toppings!
WEDNESDAY
What!?  This isn't beef with ice cream!  Well, that's too bad, but luckily this tastes even better.  A classic French recipe, taken from Thomas Jefferson's Cookbook.
THURSDAY
Leftovers
Always plenty of food to enjoy for lunches throughout the week!
FRIDAY
A fish that you can get creative with!  We're poaching pollock, but feel free to bake or fry your fish if you'd prefer.  I think we can all agree that butter does indeed make everything better!
SATURDAY
Food on a stick, yes please.  Spicy food, yes please.  And an easy recipe to make, yes please!  All of our favorite things made in one Saturday recipe.  Plus, this is a super lean beef, making it a dish that is guilt-free enjoyment.
SUNDAY
Slow Cooker Alfredo Chicken Thighs
We will deem Sunday's the official slow cooker day.  Everything you need for a complete meal is made in the slow cooker.  So, throw it all in and get our there to enjoy your Sunday!
What are you making this week?  Leave a comment below and let us know!